Welcome to TalkingPointz
TalkingPointz provides coverage, insights, and analysis of enterprise communications including UC/UCaaS, team messaging, meetings, customer engagement, CPaaS, and hardware.
Industry executives, investors and insiders seek Dave Michels' insights, opinions and advice to make timely and critical business decisions. TalkingPointz customers engage in three ways:
FREE content and analyses – we email it to you (or visit often).
PURCHASE premium content to make timely decisions.
INQUIRE about custom advisory services.
About Dave


The Most Important Enterprise Communications News from May 2020 "There are decades where nothing happens, and there are weeks where decades happen." ~ Vladimir Lenin Situational timing can make this report difficult. Most of May was still about the pandemic,…
A new hardware device enables a small business to leverage a fixed wireless connection for its data and UCaaS needs.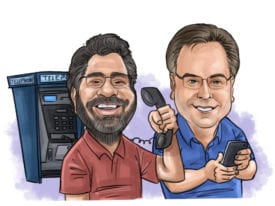 There is a great flow to this dialog, I think I will call it: Dialogflow. Also, the three participants sound really human. Most of the talk about AI is hype.  However, there are two areas in enterprise communications where we…
As enterprises try to solve the collaboration puzzle, providers like Sneek.io, Front, and Prodoscore are doing their part to facilitate WFH during COVID-19.
Read More