Welcome to TalkingPointz
TalkingPointz offers coverage, insights, and analysis of enterprise communications including UC/UCaaS, team messaging, meetings, customer engagement, CPaaS, and hardware. Peruse for free or become an insider for access to more content. TalkingPointz also offers custom advisory services.
About Dave
Last week I attended the Zoom Analyst event (#Zoom20). This was my first virtual analyst event as it was for many others — including Zoom. I attend a lot of events, and conclude each year that I should attend less….
About TalkingPointz Insider Content
TalkingPointz is supported by Insider Content
This site is for communications professionals. That means common acronyms are not spelled out. There is no better (or more efficient) way for industry professionals to stay informed. Notice, there are no ads or sponsored content on this site. Just facts and honest opinions.
There are several ways to stay informed:
Visit this site regularly.
Receive new posts in your email once a week.
Become an Insider or All Access Subscriber for alerts and access to uncensored content.
We are placing unprecedented demand on our network and computing services. The coronavirus is spreading and with it comes illness, deaths, and fear. The experts advise us to stay home with clean hands, and for most of us that means…
Check out this new TalkingHeadz Podcast where we discuss the top news events of Feb 2020. We are using the Feb TalkingPointz Insider Report as our template. If you are not an insider, and curious what's in an Insider report,…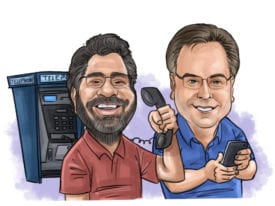 It's been fascinating to watch Craig disrupt communications, it's a show that never stops. Craig popped up on my radar at Grand Central (I still have that number, now associated with Google Voice). But, Craig was busy disrupting before that,…
Read More