October 2020 Insider Report
October sucked just like most of the other months this year. The themes of fires, hurricanes, election, and pandemic continued. The pandemic is in its second or third wave depending on how you count them. October ended with a US single day record of 97K new cases. The month is on track to be the deadliest month for at least 14 states. October also marked the start of the "cold and flu season." 
Fortunately, the mortality rate from COVID-19 has dropped. Studies show that early in the pandemic, patients had a 25.6% chance of dying. Today, the rate has fallen to about 7.6%. The virus is just as lethal, but we are getting better at detection and treatment. Though that's no reason to break out the luggage, 7.6% is still a big number. 
A recent estimate by the Institute for Health Metrics and Evaluation suggests the total death count could approach 400K Americans by February. It's very frustrating to see the numbers going up again. There have been so many disruptions to our normal way of life, but evidently not enough. 
Since the pandemic started, many have assumed it would pass quickly. Remember when events in the spring were rescheduled to the fall? We were so naive back then. We still may be. There's a distinct possibility that this pandemic may never end. It definitely won't end on a specific date. The idea that COVID-19 will be eradicated completely also seems unlikely. I'd say the handshake has a more precarious future. 
From Near Future to New Normal (or Not)
"The new normal" may not be about a post-COVID-19 world, but more likely about how we adapt to a COVID-19 world. In many regards, we have already solved the puzzle. Essential workers have been building, shipping, and stocking toasters and other things this whole time. Supply chains are damaged, but many sectors are still humming — with some major exceptions like new movies.
People are holding out hope for a miracle vaccine, and maybe it will arrive. Realistically, it won't be here any time soon. The current trials underway are still unable to report safety or efficacy. Nor do we know the percentage of the population that will take the vaccine. A new survey found that people were 16% more likely to accept a vaccine that promises 90% efficacy compared to one with 50% efficacy. The problem is the lower a vaccine's efficacy, the more people need to get it. Even if a vaccine is as high as 70% effective, Dr. Fauci predicts it will take months or possibly years to achieve herd immunity. 
At this point, 2021 is looking a lot like 2020. The question is, what does 2025 look like? 
The Disruption of All Disruptions
We often talk about disruptive technologies, but past disruptions were peanuts compared to this virus. COVID-19 is disrupting every industry in every country. The disruptions are mostly bad, but there are some positives. It has increased the appetite for many of the things the enterprise comms industry has been selling, including digital transformation. 
The pandemic has been an accelerant. The trends of distributed teams, cloud communications, and more were already well underway. We can assume that the renewed focus on enterprise communications will last for some time. Even as the office inevitably rebounds, distributed teams will remain normal for the foreseeable future. 
The industry has done an admirable job of virtualizing the desk and conference room. While we have licked distributed meetings and presentations, the industry hasn't yet conquered distributed serendipitous conversations. It turns out that hallways, elevators, lunchrooms, and even parking lots are more important to enterprise productivity, collaboration, and wellbeing than realized. Remote/distributed serendipitous communications may be the next billion-dollar opportunity. 
We need to expand the meeting metaphor into an office metaphor. Team chat and enterprise social apps may be on the right path. Persistent video is also intriguing, maybe even the answer. We won't know until we accept that a long-term solution (such as new tools or processes) is necessary. 
Meanwhile, here's what happened in enterprise communications this month.
Real-Time, Recorded is a new weekly short video about industry news. Sometimes news can't wait for the newsletter. Dave Michels and Zeus Kerravala provide what you need to know in a weekly short video discussion.
Conferences
Zoomtopia: This event is a bit harder to summarize because I just published a nine-page research note on Zoom. In a word, I would say momentum. Zoom won the pandemic, which is a bit surprising since it was the punchline of the industry a few months ago. Surprising, yes; luck, no. Zoom knows how to design, code, and execute, and does so quickly. 
The vast majority of the announcements were about meetings. There were a few Zoom Phone announcements, such as how Zoom leverages room displays to direct responders in case of an emergency. Also, the company has over half a million phone subscribers, but that barely came up. The three biggest meetings features announced were E2EE, Zapps, and OnZoom. 
E2EE was not a surprise. Zoom has been very open and deliberate about its plans. What was announced, as expected, was a bit light. Zoom calls it Phase 1. If E2EE is important to you now, check in with 8x8, Cisco, or Symphony, to name a few. Or just use WhatsApp or Telegram. That's not completely fair — the consumer apps do offer E2EE, but it's not really secure if the app does the key management. Zoom is rearchitecting its approach to key management, and that takes time. The result might be really good. 
Zapps is a clever way of bringing workflow into the meeting. We frequently see workflow apps integrated into messaging (Teams, Webex Teams, Slack, Zoom Chat, etc.). Zoom is applying the same concept with meetings. Conceptually, it makes sense, but meetings just don't have as strong a need — though that's not the same as no need. It's logical, inexpensive, and will build an ecosystem. 
OnZoom is YouTube meets pay per view. But instead of recorded videos, it's live meetings. OnZoom allows creators to sell tickets. It's perfect for an election during a pandemic. Instead of $10K/plate dinners, you can do $10K/video chats. They even built fundraising tools. The concept isn't particularly new (the porn industry has been doing a similar concept for decades), but it's new to general users. I will be hosting an OnZoom to share how to properly smoke a brisket. 
All in all, Zoomtopia was a great event with tons of announcements. Zoom is sitting on top of the world right now, looking down on the entire UC/video industry. Will it get knocked off its perch? Absolutely. The question is when. (Hint: don't hold your breath.) 
Mitel Summit 2020: We haven't heard a lot from Mitel. In fact, this was just the second time Mary McDowell presented to the analyst and consultant community. She joined Mitel about a year ago. And, now I have a better sense of why they've been so quiet. 
Mitel has acquired a lot of companies since 2003. Mary showed a slide that had 23 brands on it. Technically, some of them had been acquired by the companies that Mitel acquired, but the point of an extensive portfolio remains valid. Many of those acquisitions were distressed companies. The result was Mitel had racked up a lot of technical debt.  
That includes what became Mitel's primary UCaaS Offer: Mitel Connect. It sounds like Mitel spent most of the past year bailing water, and the leaks kept sprouting. It also sounds like most of that is behind them now. Even better, they fixed the leaks with a clear set of priorities. The strategy is to leverage its existing base and channel partners "to be the global mid-market cloud communications leader." 
To some degree, Mary is playing the hand she was dealt, which includes a diverse and valuable base of mid-market products and customers. Mitel believes the mid-market is about half cloud, so both prem and cloud remain priorities. The vision makes sense, but it's not the first time I've heard a UC company tell me they are going to migrate its customers to the cloud. 
However, the story presented this time was more reasoned. For starters, it was clear the company is making data-driven decisions. "The data shows…" came up repeatedly. The pandemic caused a lot of updates, which in turn, renewed customer relationships. Mitel is working to create a seamless migration path — for customers and partners. Despite the trimming of its portfolio, there is no other vendor that offers as diverse a portfolio: call control, apps including cc and meetings, prem, cloud, hardware (appliances, endpoints, wired/wireless), and global. 
General News
Google Workspace: This was partially covered last month, but it arrived in October. When it comes to Office Productivity Suites, there are two major options: Microsoft Office and G Suite. Google wants there to be one option — and it's not Google. While that may sound like an endorsement for Microsoft, it's actually a declaration of the end of suites. 
Javier Soltero, the VP and GM of Google Workspace, explains it in more detail in this TalkingHeadz podcast. The idea is to blur the boundaries between apps — or what Google now calls silos. The changes began rolling out initially to enterprise users but will eventually come to consumer Gmail users too. Google Workspace is what you get if you put G Suite in a blender. 
I made the move from Hangouts to Chat. Technically, Hangouts was replaced by three separate apps (Chat, Meet, and Voice), but the effect is the opposite. Hangouts is a stand-alone app. So first, I would switch to Hangouts. Then, because I have multiple Google accounts, I would select the desired account. That seemed normal. Now, Chat is associated with Gmail. As I switch between my Gmail accounts, my Chats also switch. Mail, Chat, Rooms, and Meet (Rooms refers to chat rooms) are all accessed from Gmail on both desktop and mobile. 
Two things: This is a mail-centric approach. Despite all the gibberish about email being dead, it remains alive and well. Google is consolidating communications (at least most of them) into a single space. Mail is only the start. Workspace is blending communications into productivity apps too. A Chat window can spawn a new (group) document. You can start a video call in G Docs. 
The second point is that Google is blurring the lines between microservices and clients. The client is the browser, so a new UI is just a change to how/where an API is called. Changes are implemented without lag and are simultaneously deployed to PC, Mac, Linux, and ChromeOS users. This is not a second-class citizen browser experience. 
I am very excited about this virtual workspace that includes all kinds of apps and communications. But I've been fooled before by Google. A unified workspace isn't useful if it lacks basic features. None of this amounts to much if Google doesn't build out a more robust solution. I'm still waiting for an Index feature in G Docs, and don't get me started on Sheets. Google ceded its first mover advantage with productivity apps to O365 and with cloud computing to Azure. 
Be careful: there is tremendous confusion between Workplace and Workspace both inside and outside of Google. 
230/FCC/DoJ Cluster: There's a techlash underway, and the politicians intend to use it to make some big changes. The problem is, they don't seem to have a clue what they want to change. There are 2.5 topics swirling and potentially colliding, all with potentially huge impacts. 
The first one is antitrust. The DoJ has filed a suit against Google, and another is expected against Facebook. We also expect several states to file complaints against Google. The DoJ's complaint has the support of several red-state AGs, but the blue states concluded they will file a separate suit. The DoJ's complaint is narrowly focused on search. There's some meat there, but the DoJ forgot to include how search works and Google's ad business. Google will lose this one, but no one will care because nothing important will change (such as Google's search market share or ad empire). It should be a spectacular (and long) show. Google holds $120B in cash, and its parent Alphabet is valued at $1T.
Concurrently, there's increased pressure on a change to that thorny part of the Communications Decency Act known as Section 230. The Act was written before Facebook, Google, and Twitter existed, but it enables them to exist. It gives social media sites immunity from the lies and misinformation their users post. 230 is complex, but so far, the proposed changes don't seem to solve the issues of concern. 230 is about immunity, not content filtering. If 230 is revoked, the impact will be more (not less) filtering. 
Nonetheless, both parties want to change 230, but for different reasons. It's all wrapped up in some political theater, but the questions surrounding Section 230 and internet regulation comprise one of the most important debates facing tech. The goal right now seems to be to punish the big players, but the impact of unraveling 230 will most likely ensure their dominance, while hurting smaller companies like Wikipedia and Reddit.
The FCC jumped into the fray (or Pai was pushed by Trump), declaring that it has jurisdiction over content moderation policies at sites like Facebook. The FCC shared its logic in a dizzying display of hypocrisy. It's a bit complex, but the FCC exists to regulate common carriers. A few years ago, when Internet routing was neutral, the FCC said that bandwidth providers are not common carriers. Sadly, net neutrality went away. Now, the same FCC says that social networks are common carriers. In other words, the same FCC that insisted it has no right or authority over the parts of the internet it did have authority over is now insisting it has rights to regulate the parts it has no authority over. This kind of logic justifies making Merrick Garland the FCC Chair.  
So we have antitrust and Section 230, but there's more. Several of the proposals to change 230 include significant restrictions on encryption, such as a required back door. This will definitely impact enterprise communications. Just this newsletter issue has two new E2EE announcements — and there was one last month too. 
It's hard to say where this all ends. There are a lot of emotions, frustrations, and anger in the mix, further intensified by the upcoming election. Concurrently, these companies are among the few that are seeing massive profits related to the pandemic, so there isn't much sympathy for them. I will say that breaking up these companies does nicely solve concerns about anti-competitive behaviors and unfair moderation practices. 
Verizon 5G: Verizon finally caught up to AT&T and T-Mobile with 5G. It effectively traded its high-speed mmWave (high-speed and poor range for a few handsets) for DSS 5G (slow 5G on shared LTE bandwidth). LTE bandwidth gives Verizon the same (slow) footprint as AT&T and T-Mobile. Though this 5G should be awesome at sports stadiums, it's Apple and Samsung that stand to benefit the most.  
SpaceX Starlink: While 5G will connect big city denizens, Starlink will service everyone else. SpaceX just did its fifteenth launch of Starlink satellites. That puts about 900 small, low Earth orbit satellites in space now (tens of thousands expected). Starlink radios will provide low-latency connections up to 100 Mbps globally. Ector County Independent School District in Texas is piloting Starlink and intends to connect 45-90 households to it next year. 
SAP: Europe's biggest technology company (by sales) scrapped its profit targets for the year. SAP's stock plummeted overnight, wiping $33.1B off its market cap. The roughly 20 percent decline in stock price was triggered by a disclosure that projected revenue, especially recurring, would be significantly lower as the pandemic has slowed IT spending. SAP had a double whammy, as it has a Blackberry effect and slower spending. Earlier this month, Morgan Stanley analysts warned that even "high priority" projects related to digital transformation will see some impact as executives still expect a decline in their tech budgets this year.
Meetings
Gartner MQ for Meetings: Gartner issued its Magic Quadrant for Meetings this month. It included 15 providers, three of which were declared Leaders: Microsoft, Cisco, and Zoom. Each has bragging rights. The three were clustered together well apart from the others. 
It was a big year for meetings, or as Gartner puts it, "All vendors in this market segment reported unprecedented demand for their meeting solutions." The pandemic has expanded how meeting technologies are being applied. "As the use cases expand, meeting solution vendors will need to expand their feature sets." We see this already in several sectors such as education, but there are tremendous opportunities for verticals we didn't know existed. 
No big surprises on the graphic. LogMeIn and BlueJeans by Verizon are poised to enter the Leaders quadrant. It's surprising to me that Google hasn't done more with Meet, but its placement in Challengers seems reasonable. Not reflected on the graphic were large strides made by Lifesize and Avaya. 
There were a few surprises in the text. WebRTC was never mentioned, but I expect to see rapid innovation from the growing body of WebRTC-based solutions over the next few years. Room panels were never mentioned, and digital whiteboards were only listed as cautions (twice). I expect 2021 will be a big year for both. 
There are four Strategic Planning Assumptions. 1) 11% CAGR 2019-2024. That's already been exceeded, so either it's unrevised or they are predicting a contraction. 2) In-person meetings will drop from today's 60% in-person to 25% by 2024. Again, already nailed that in 2020 as well, but it's a tricky claim. I don't think meetings are either in-person or not; I expect the vast majority of meetings will have at least one remote participant. 3) 74% of companies will shift to more remote work — sounds plausible. 4) 50% of all room systems will be based on Android or Windows by 2023. If they are thinking about new system sales, 50% seems low. I think all MS and Zoom systems are Android or Windows. Cisco's newer systems are also derived from Android. The bigger story here is that Android is emerging as the superior solution. 
Compared to the 2019 report, Cisco and Zoom swapped positions (but remain close), and Microsoft got much closer to them. LogMeIn dropped out of Leaders. Huawei crossed from Niche into Challenger. PGi, Enghouse/Vidyo, and ZTE were dropped, and Kaltura was added. 
Cisco Updates: Webex got a lot better in October with two separate bursts of news (Oct 3 and Oct 29). The announcements largely fall into three different categories: seamless experiences (breakout rooms, virtual background on mobile, content share preview, etc.), hybrid work (touchless experience, sensors, etc.), and security (granular controls, data residency, etc.). 
Cisco's earlier announcements were mostly incremental improvements such as improved views and more intuitive controls. They also announced several upgrades to its room systems including environmental sensors. The new room Navigator can be used as an exterior room panel. There are also new panels coming from Microsoft. Neat is also in this space, and Crestron recently announced its 4th generation panel. 
The second set continued the momentum with upgrades. In the seamless category, Cisco updated endpoints with the new noise mitigation technology it acquired from BabbleLabs. It will be coming to clients soon. I've been testing it, and it's impressive. However, noise suppression is subjective. I am unaware of any objective measures to help prospects differentiate the enhanced audio quality claims that many vendors are making without hearing it for themselves. 
Webex is also breaking out of meetings, or at least general purposes meetings. Cisco announced Webex Legislate and virtual courtrooms apps. We are going to see a big expansion of "verticals" in meetings, as every sector has been forced to adopt distributed workflows. Webex is also making some headway in contact centers. 
All meetings providers saw unprecedented growth earlier this year, and despite the perceived scalability of the cloud, demand pushed breaking points. Now the focus is returning to features. Cisco is clearly accelerating, and this can be attributed to some organizational changes. Javed Khan is now leading Collaboration, and there have been additional management changes above and below him. Also, we are likely seeing the fruits of some structural changes implemented three months ago. Phones and Rooms were consolidated into a Devices group, and Meetings, Teams, and Jabber were consolidated in a Clients group. Despite all these announcements, Cisco will likely have more at its Webex One conference in December. 
Teams Displays: The previously announced Teams displays are now available. It's part of the all-in-one device movement, or what I call phones reimagined. They are nice accessories for WFH. Microsoft describes the displays as "ambient" (encompassing), which doesn't feel like the right word. I do believe the form factor makes sense, but the software on this first generation is too phone-like. See Put Microsoft Teams Displays on Hold. 
Avaya Fills Its Spaces: Avaya is integrating its primary cloud app, Spaces, with the new NVIDIA AI cloud to improve the visual and audio capabilities of its collaboration application Spaces. Customers will benefit from background noise removal, virtual green screen backgrounds, rich presenter features enabling presenters to be overlaid on top of presentation content, as well as live transcriptions that can recognize and differentiate voices. 
It's amazing how quickly AI is impacting meetings. Zoom was early with virtual green screen, and Microsoft was early with blurred backgrounds. Now, these features are on their way to becoming standard. A few unanswered questions include: Are all implementations comparable? Cisco, for example, is making noise about its new noise suppression capabilities; how will we differentiate implementations? Also, are there benefits to cloud-based AI vs. device-based AI? My guess is that cloud-delivered AI will be better for transcription, captions, and translation and that device-based solutions will be superior for visual and audio manipulation. It will be interesting to see if one or both wins. 
Avaya has made steady improvements to Spaces this year. What started as an experiment (Zang) has turned into a core offering. Avaya also offers ACO, which includes RingCentral Meetings. It too has seen considerable upgrades this year. 
RingCentral Video Updates: I recently met with RingCentral and was impressed by how much RingCentral Video (RCV) has improved. The company quietly added 70 new features to RCV since its launch last April. The improvements may fall into two main areas: enhanced security (moderator controls, waiting rooms, etc.) and improved experiences (device switching, escalate call to video, dark mode, etc.).
RingCentral never forced existing users off its Zoom offer, but RCV did become the default meetings offer for new customers. 2020 was quite the year to launch a new video service, especially one that had to fill a Zoom-sized gap. 
I will be covering RCV and more in a TalkingPointz Research Note on RingCentral in November. 
Microsoft: Regarding Teams, Microsoft released several features in October such as live captions with speaker attribution, spotlight video, and other features announced at Ignite. The bigger news is Teams is now serving 115M daily active users (DAU). Prior revelations were 75M last April, 44M last March, and 20M in November 2019. The pandemic has been very good to Microsoft Teams. 
Also in October, Microsoft released Productivity Score. Back when software came in a box, the vendors only knew sales data. With cloud-delivered applications, the providers can know detailed usage information. Productivity Score provides visibility to user, team, and organizational productivity by analyzing activities across Microsoft 365, Edge, Outlook, and Teams. Information is presented in five categories: content collaboration, meetings, communication, teamwork, and mobility. 
It's perfectly reasonable for an employer to monitor its employees' use of its apps and data, and Microsoft can see everything when its customers run their business on Microsoft products. This is an enterprise variant on the Internet of Behaviors (IoB) trend that monitors and influences behaviors. 
Productivity Score will make recommendations that it believes will improve individual or team productivity. This may include additional training, more or fewer meetings, possibly even advice to change one's tone in emails, calls, or chats. It will also monitor work habits and even suggest breaks for those working too hard (employee wellbeing). This is bold stuff, particularly on this scale. The Prodoscore app has a similar concept, but with a narrower focus on communications.
Wire Releases Encrypted Video: Collaboration startup Wire launched its video conferencing service with end-to-end encryption for up to 12 participants (25 for audio). The app also supports file and screen sharing capabilities. The app was "built by Skype technologists" and leverages open source for security and transparency.
Lifesize AI: Lifesize partnered with Zoi Meet for AI features to record Lifesize meetings with time-stamped audio supported by a searchable and editable transcript. Zoi Meet's AI assistant will join Lifesize meetings to take notes and create a transcript with action items.
BlueJeans Webinars: BlueJeans released new pricing for BlueJeans Event with monthly or annual packages for 100, 200, or 500 attendees (though capacity is 50K). 
Neat picked the right year to come out of stealth (Zoomtopia 2019). It has experienced continuous growth since (sales, employees, products, distribution centers). At Zoomtopia this month, Neat announced three new products: Neat Bar Pro, Neat Frame, and Neat One. The Bar Pro offers several upgrades over the Bar including better AV components and support for three screens. The Neat Frame is an all-in-one, personal touch-screen device. The Neat One is a personal USB AV device. 
Neat made some waves with its direct-only model, but a channel program has become necessary as its portfolio (and opportunity) has expanded. Neat announced a global partner program with 21 partners. 
Meet Breaking Out: Google Meet now supports breakout rooms, initially for education customers. Meet supports up to 100 breakout rooms in a single call. Participants are randomly assigned, but moderators can make adjustments. Meet also rolled out virtual backgrounds in Meet. 
Post-PC Not Yet: Just when I thought we were moving past the PC, both Dell and HP followed Lenovo into meeting rooms. Dell/Logi has bundles that include an OptiPlex desktop PC (Windows 10 IoT Enterprise), Dell Touch Monitors, a Logitech Tap, and Logitech AV devices. 
Slice of Jabra: Jabra and HP announced a bundle that includes a PanaCast camera and HP Elite Slice PC. It should be ideal for silent meetings. An announced future bundle will also include a Jabra Speak speakerphone. Both are certified for Microsoft Teams Rooms and Zoom Rooms. 
Vyopta Meet: Vyopta, UC monitoring and analytics, now supports Google Meet. The technology can be used to determine quality and performance issues. 
Meet Glass: Google Glass is back! The Enterprise Edition of its heads-up display now works with Google Meet. It enables hands-free chat and video as well as see-what-I-see capabilities.
Hangouts Concedes to Meet: Almost a year later than initially announced, it appears the end of Hangouts is indeed coming. Next month, classic Hangouts users will be able to share and join video calls with Google Meet. The Skype-like messaging app was originally launched as part of the ill-fated Google+ social app in 2013. Meet is the more strategic offer and supports video features such as tiled layouts, closed captions, and high-quality audio and video screen sharing. If Google continues to develop/improve Meet, as it did earlier this year, it could even become a viable primary meetings solution. I've had to abort a few Meet meetings due to app limitations. 
Otter: Otter.ai announced the launch of live video captioning for Zoom meetings and webinars. 
Zoom Fuel: At the end of October, Zoom became more valuable than Exxon; $139B compared to Exxon's $138.9B. Zoom posted $1.35B in revenue over the past 12 months; Exxon posted $213.8B. I know that I am now spending more time in video meetings than in cars and planes. 
Engagement
Verizon CC Hub: Verizon launched Contact Center Hub in October. It's targeted at 100 agents or fewer with straight forward contact center requirements. This "multichannel" service supports voice with an optional SMS add-on. SMS is a flat rate of $10/mo for unlimited inbound or outbound text messages, but it's an all (agents) or none proposition. 
Verizon is working really hard to keep this very simple. There are two levels of service: Essential and Professional. Essential is fairly basic, and Professional adds advanced features such as call recording, monitoring, and whisper. The Professional package is 50% more than Essentials and is required for the Salesforce integration. It's a modular, flat rate model that will run around $60-$100/agent/mo. 
The Verizon collab suite includes One Talk, BlueJeans, and CC Hub — all three can be obtained separately and delivered OTT. Verizon is building out its comms and collab solutions with its own branded products. This is a very different approach than say AT&T (which partners with RingCentral) or CenturyLink (which partners with Cisco and Zoom). CC Hub is branded Verizon but powered by Aircall (Shhh!). It seems like a basic for organizations outgrowing their PBX or basic UC call distribution, but it will likely be held back by Verizon's own direct sales motion. 
Genesys GTM: It took a year, but the Tony Bates Genesys is taking shape. Many of the direct reports changed last year, and now comes the big shifts. Last month were sweeping changes in marketing. This month the changes are in sales. Big changes to execs (global channels, verticals, global accounts) and lots of operational changes to simplify migrations and other sales-related services. The company is striving toward a revenue stream that is 80% "cloud" (recurring). 
UJET: UJET announced the general availability of Virtual Agent, its conversational AI offering. Virtual Agent will handle the basic, low-hanging information gathering for a human agent. 
Front and Liveweb: Front provides a clever solution for collaborative email. It's particularly effective for customer service teams. Liveweb offers ways to connect with customers and website visitors. Now integrated, service teams can engage with customers over chat, voice, video calls, screen sharing, and more — all within Front.
Lifesize Expands Channels: Westcon and Lifesize expanded their ASEAN distribution partnership to include the CxEngage CCaaS platform and the Kaptivo line of digital whiteboards. Dicker Data will distribute the entire Lifesize portfolio in ANZ. 
inContact: NICE inContact announced its fall 2020 release of CXone. Release highlights include remote agent capabilities, new discovery of trends, and authentication features such as voice biometrics. Big releases like this are so much more exciting than continuous improvement. 
Avaya CCAI: Avaya announced the availability of Google CCAI with Avaya OneCloud CCaaS in India.
Sinch Messaging: Sinch announced a new tool called the Conversation API designed to facilitate interactions across multiple messaging products such as SMS, WhatsApp, and Viber. Until now, Sinch was focused on SMS interactions, but had acquired SAP's Digital Interconnect business last May. 
Avaya and Verint expanded their partnership to include Verint Knowledge Management capabilities in the Avaya OneCloud Contact Center subscription. Avaya and Verint have enjoyed a 15-year partnership, but Verint was a separate purchase. Now, the AI-based knowledge management widget from Verint is included in the OneCloud subscription. Avaya has been moving components that were previously optional and additional into its OneCloud subscription. 
Unified Communications
New Speakers: Poly unveiled the Sync Family of USB and Bluetooth speakerphones. The rectangular (not round or triangular) Syncs come in three sizes. All support USB-C, Bluetooth, and have beamforming microphones with noise mitigation. On the smaller units, the built-in battery can be used to charge a smartphone. Though they can be used for mono music, they are voice-centric devices. They support Alexa or Google Assistant. The Sync 20 is the first device with Zoom's new Personal Speakerphone certification (mute sync). The Sync 20 will be available in November. The 40 and 60 will be available in early '21. Epos announced the EXPAND 80T speakerphone. It has been certified for Microsoft Teams.
RingCentral Expands Global Office: RingCentral Global Office UCaaS will be available in Estonia, Greece, Lithuania, Slovenia, and South Africa. The service enables distributed workforces across multiple countries with local phone numbers, PSTN access, emergency services, language localization (10 languages), and more. 
Avaya ACO: Telecom Consulting Group (TCG) will be a new US Master Agent for Avaya Cloud Office by RingCentral. 
Ribbon: Ribbon Communications announced its Intelligent Edge SBCs are now certified for Zoom Phone BYOC implementations.
Fuze announced the next generation of its Integrations Ecosystem that supports MS Teams, Google Calendar, and Zapier. Fuze also announced a series of enhancements to the Fuze platform including improved scalability and mobility, upgrades to the Fuze Contact Center, and IT management tools. 
Avaya Vantage 3 GA: Avaya released the third generation of its Vantage desktop device. This device straddles the traditional phone and emerging video device worlds. With an optional handset, it behaves like a modern IP phone (keyboard, mouse, and display can also be connected). Without a handset, it's a video-first endpoint for Spaces and other apps. The OS is derived from Android. 
Acquisitions
Twilio and Segment: It was announced just a few days after the Twilio Signal Conference, so I guess we got the B keynote. While the CC and CRM providers fight over customer data, Twilio opted for a different approach. CRM is only a piece of the customer data puzzle. The other pieces are scattered across e-commerce systems, marketing automation systems, support systems, homegrown apps, mobile apps, and more. In most cases, these pieces are in incompatible systems by different vendors. Segment attempts to rationalize all these sources into a single, comprehensive view of the customer. The acquisition positions Twilio as a single provider capable of understanding and engaging with customers. 
Terms are vague, but Twilio is acquiring Segment in an all-stock deal valuing the latter, at the time of announcement, at $3.2B. Segment's owners will control about 6% of Twilio's common stock. The acquisition is expected to close this year. 
An all-stock transaction suggests the combination is compelling to both parties. The CEO of Segment said the merger accelerates Segment's mission "to help its customers become the best and most engaging companies on the planet." Furthermore, Segment is about unlocking data from existing systems. It's not about replacement or migration which is consistent with Twilio's approach to supplementing contact centers. 
Bandwidth and Voxbone: This acquisition gives Bandwidth a stronger European presence, and of course even more phone numbers. Bandwidth now emerges as a global platform and network. More importantly, Bandwidth will power 11 out of 12 of Gartner's Magic Quadrant Leaders for UCaaS, CCaaS, and Meeting Solutions enterprises. Eventually, Bandwidth will make a mistake, but not today. Voxbone sold for about €446M, representing 6 times its anticipated 2020 revenue. 
Five9 and Inference: Five9 made a big ($172M) bet this month with its intent to acquire Inference Solutions. The Inference platform is a SaaS solution for IVR and IVAs (Intelligent Virtual Agents) — conversational bots that mimic live agents. Its solutions are used in stand-alone applications as well as several contact centers. Five9 referenced its use of Inference Solutions last September with the launch of its Virtual Agent solution. Evidently, Rowan liked it so much that he bought the company. 
Inference positions Five9 to take advantage of the trend toward increased automation in the contact center. It brings a competitive base and partner network to Five9. IVAs are growing into a core component of the modern contact center. It fits into Five9's creed of accessible AI. 
This is Five9's third and largest acquisition since Rowan took the CEO role in June 2018. FIVN stock has increased roughly 300% in that time. Inference will be operated as a separate unit with no disruptions expected to existing partnerships (Virtual Observer continues to serve non-Five9 customers — Five9 acquired VO last year).
Financial News
Acapela came out of stealth with a new "asynchronous meeting platform" as an alternative to rampant online meeting fatigue. The team believes that real-time meetings are a barrier to collaboration. The company raised €2.5M. 
Dialpad announced $100M in Series E funding, giving the UCaaS provider a $1.2B valuation. The provider has a voice-centric heritage, but its acquisition of TalkIQ in 2019 and its more recent acquisition of Highfive positions it for rich, AI-powered communications. Dialpad was the first business communications and call center provider to bring native, real-time transcription, automated note-taking, live sentiment, and voice analytics to market. Over the past 12 months, Dialpad exceeded an ARR of $100M and saw its call center business accelerate. With more than 500 employees and a plan to grow headcount dramatically over the next year, Dialpad serves +70K small-midsize customers around the world. 
Donut: Startup Donut raised $12M in total funding to launch a collaborative app called Watercooler (finally some terms I can relate to). The app facilitates virtual "coffee meetings" (I am not making this up). Donut says it has facilitated 4M connections across 12K companies. Watercooler integrates with Slack, so it's ideal for companies that use Slack just for getting work done. 
Headroom came out of stealth and announced a seed round of $5M. It offers AI tools for computer vision, natural language processing, and more. Headroom hosts videoconferences, transcribes them, and provides highlighted summaries. 
Kurmi raised €10M. The company streamlines and automates UC management. It intends to use the funds to expand and develop a service model. 
MessageBird cloud communications company raised $200M in Series C funding, giving the cloud communications company a valuation of $3B. Originally seen as a European CPaaS provider, MessageBird has since repositioned itself as an "omnichannel platform as a service" (OPaaS). It offers services for WhatsApp, Messenger, WeChat, Twitter, Line, Telegram, SMS, email, and voice. 
Monday: Collaboration startup Monday.com is rumored to be planning an IPO on Nasdaq during 1H21. Monday has +100K customers and a valuation around $3B. Revenues are projected around $250M ($120M in 2019). They are too busy to participate on a TalkingHeadz podcast. 
Mural offers a visual, browser-based workspace service that facilitates distributed collaboration. The company closed a $118M Series B round in August. MURAL had previously raised a total of $24.3M.
Remotion offers something between click-to-chat and persistent video. It raised $13M in Series A funding, and announced a new video chat app that is optimized for hybrid and fully remote teams. 
This Month's Goodreads 
Listen to the two TalkingHeadz Podcast interviews of October, now on Audible: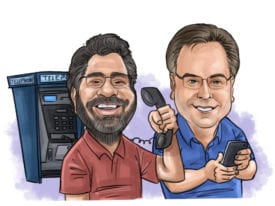 Cameron Weeks of Edify Huddle and Javier Soltero of Google Workspace.
TalkingPointz Insider Reports are available through a subscription service at TalkingPointz.com.
Personal subscriptions are available to view on TalkingPointz.com. Enterprise subscriptions are multi-user and include a downloadable version of this and other reports.