Insider Report for January 2021

The Most Important Enterprise Communications News from January 2021
There is a lot of optimism about the new year — less pandemic, more travel, and an opportunity to create the new normal. There is indeed hope that we are past the worst. Despite January being the deadliest month of the pandemic in the US, there are encouraging signs. Deaths tend to lag cases and hospitalizations, and we are seeing downward trends, nationally, in both. New cases have declined in every state after the holiday travel spike. By some estimates, about a third of the US has been exposed to the virus. That includes estimates for unreported and asymptomatic cases. If true, due to immunities, the spread should slow. Now it's a race between vaccines and virus variants. 
At this point, the pandemic is scheduled to end this fall (subject to change without notice). That's a bit more than one year later than many expected at the start. The speculative topic of the month is what will the new office look like? I'm quite pleased with two of my original quotes on this: "If you are heading back to the office, the good news is you are going to get a great parking spot," referring to many who may opt out of offices, and "The toothpaste isn't going back into the office," referring to what we now know is possible. Either way, the new normal will have bits of 2019, 2020, and some new emerging options. 
Face masks and social distancing will be around for a long time. That was the case in China after SARs. We will be less cautious, but we are now more cognizant of germs. I'm curious to see if the handshake returns. 
We are going to see some big changes to commercial real estate. Demand for office and retail space will decline, but there will be increased demand for new kinds of housing, ecommerce fulfillment centers, delivery-only kitchens, healthcare centers, and ad hoc office facilities for meetings and events. 
We are also going to see some big changes within offices. Offices will be less about work and more about interaction. Of course there will be those who prefer to work in an office, but many of those who have a good alternative will opt out. Offices will be repurposed to maximize interaction with more multi-purpose common rooms and less dedicated cube and office space. I think we will also see more on-demand facilities such as a Starbucks with bookable meeting rooms. 
I also believe we are going to see a tremendous amount of digital transformation. Attitudes have changed, and we are more connected than ever. I wrote about digital transformation on NoJitter, but there's so much more to say. Ask me about my software-controlled toaster oven that knows what's in it and how to cook it or my new custom-tailored T-shirt. Every industry is software-based. 
From an enterprise comms perspective, we are going to move from a make-do WFH to strategic initiatives for distributed work. This has widespread implications involving equipment, policies, working hours, best practices, and tools. I will be covering these topics in an Enterprise Connect virtual session The Home-Based Office in March. 
General News
WhatsApp Signals Less Privacy: WhatsApp users received an in-app notice about a revised privacy policy. As usual, the changes were nonnegotiable (accept or go away) with a deadline of Feb 8. While WhatsApp is/was known for E2EE, its parent Facebook is known for complete and total mass surveillance of its users. So people became concerned when Facebook further eroded that wall of privacy protecting WhatsApp. Facebook had earlier pledged that WhatsApp users would not be required to share data and reneged on that initially in 2016. 
The changes are not that significant to anyone already using both WhatsApp and Facebook. The messages remain E2EE. WhatsApp usage and user data will soon be shared with Facebook to facilitate better targeted advertising. Facebook intends to further leverage WhatsApp in its ecommerce strategy. Chats with merchants are not E2EE, and merchants will also be able to store those chats in Facebook-hosted servers. Why a merchant would want Facebook to use their customer/prospect chats for better targeted advertising is a question that isn't getting much attention. 
However, the bigger story here is how Elon Musk (and others) accelerated the defections. He tweeted (to 41.5M followers) a recommendation to use Signal. Musk has been increasingly critical of Facebook, including its complicit involvement with the attack on the Capitol. He wasn't alone either. Jack Dorsey and Edward Snowden have also endorsed Signal, and Tim Cook has been vocalizing concerns about social networks and privacy. 
Signal is a nonprofit, free messaging app with E2EE. Signal was co-founded and funded by Brian Acton, the WhatsApp co-founder that sold to Facebook and left after a public dispute over Facebook's intent to integrate the apps. While Facebook offers services for personal information, Signal offers services for free. So a lot of people seem prepared to ditch WhatsApp for messaging. Realistically, such defections don't make much difference, and things will likely blow over. However, Facebook did decide to move back the date of the change. 
Facebook wants all of its apps to share data, but the personal world of Facebook is increasingly brushing up against the professional world of business. The Facebook Portal video device required a Facebook account when I evaluated it last summer. The Portal is supported by several enterprise meetings providers including Cisco Webex and Zoom. The Oculus VR goggles also now require Facebook credentials. Facebook intends to launch Infinite Office in 2021 on Oculus, an app intended for a richer VR WFH experience. 
Free Speech and Content Moderation: The debates over free speech and content moderation continue. Earlier this month it was about deplatforming the president, and later in the month it was about stock market manipulation. Trump was the first president to really leverage social media, and Reddit (GameStop) was the first widespread stock market ploy from social media. As a society we just don't have an established framework for how to handle these events. 
It turns out that humans are more social than many of us realized. Regarding productivity and technology, we pulled off a major WFH transformation in 2020, but we lost the social aspects of work in the process. The answer likely involves social networks, either public services or even enterprise solutions such as Yammer and Workplace. I'd like to highlight three social networks that take different approaches to content moderation: 
Clubhouse: Bankrolled by venture capital firm Andreessen Horowitz. This is the social network where actual conversations, or chats, take place in chat rooms. It hosts live, audio-only conversations. There are attendees and speakers/moderators. Attendees can't speak, but can request the mic. It has attracted many celebrities including Oprah, Ashton Kutcher, and Elon Musk. It has a double FOMO aspect because when conversations finish, they disappear forever. 

Nextdoor: Breaks all the rules of internet social. Hyper local. Users only see/view content related to their neighborhood. It has expanded from babysitting services to local politics (national politics not allowed). Very selective and verified participation. For example, there's no homeless on Nextdoor. You can complain about school district administrators, but unless they happen to live in your neighborhood they are unlikely to see it — nor can they respond. No concept of followers or upvoting. Feeds are often positive. Increasingly beating local news sites in terms of advertising dollars. Nextdoor reported an 80% jump in user engagement in the first two weeks of March 2020. 

Reddit: The low frills site is organized by a large selection of specialized topics called subreddits. Users share text posts, links, videos, and images via simple UI. Content moderation is largely crowdsourced. The user-generated content can be upvoted or downvoted, and spammers can get banned instantly. Reddit users were responsible for driving up GameStop's valuation. Evidently buying stock is gambling if based on Reddit discussions, but it's investing if based on Wall Street analysis. Reality: stock markets are fundamentally a way of making bets, often on the outcome of other peoples' bets.
For additional thoughts on free speech, content moderation, and antitrust, see my NoJitter post (Content Moderation at Work). 
Privacy Matters: Your privacy is really important, but not quite the way you may think. Grab some popcorn because Facebook and Apple are starting a spectacularly public debate over how best to exploit user privacy. Apple's iOS changes give users the ability to opt out of being followed around the internet via app trackers. Facebook isn't very happy about this because it is likely the biggest data collector on the web. Its trackers are buried in tons of mobile apps and on websites, and Facebook uses the data for ad targeting (AKA its primary revenue). I agree with both: Facebook is tracking too much (without clear consent) and Apple has monopolistic control over too large an ecosystem. 
Apple is being more aggressive, but Google too is making changes that will make data surveillance harder for Facebook and others. While more privacy is good, it should not be missed that these changes are hardly altruistic. Both Apple and Google are using their market power to advance privacy — from others, but they collect and retain the coveted information. 
Facebook and Apple are in the center ring, and these two companies are among the most powerful companies in the world. It's hard to believe, but the issue is even bigger than they are. Other characters in this show include GDPR policy makers and many other tech firms. This digital surveillance issue bleeds into the workplace too as each keystroke becomes trackable. Keycards tracked arrivals, but digital tools, such as Microsoft's Productivity Score, can track almost everything an employee does at "work" regardless of where that may be. Microsoft's Jared Spataro believes we need some kind of worker bill of rights, but added that's not Microsoft's job: "that's the domain of government." 
A Brazilian Record: Brazil's public health ministry suffered quite possibly the biggest data breach in history (though SolarWinds hack will likely eventually hold the title once we understand it enough to quantify it). Hackers stole the medical records of 243M people. That includes dead people because the population is only 211M. The month before, an error exposed 16M records when the system's database keys, logins, and passwords were mistakenly posted to GitHub.
FCC Changes: First, Ajit Pai is gone! Evidently he ran out of ways to weaken the FCC. He departed the FCC on January 20 and will not be missed. President Biden appointed commissioner Jessica Rosenworcel as acting chair until an official replacement is confirmed. Rosenworcel was first nominated to the FCC by President Obama and has served since 2012. Rosenworcel voted to impose and maintain net neutrality and pushed to close what she's called the "homework gap," an effort to extend broadband to every child in the country. 
Sadly, Pai was unable to complete his last promise of clarifying Section 230. It was a promise he made three months ago under pressure from President Trump, and it involved some impressively contorted logic in claiming jurisdiction over 230, which completely contradicted the logic he used to end net neutrality. Without his creativity, it seems unlikely that the FCC will have any say over Section 230. Nor is the matter of net neutrality settled. Pai's FCC didn't just kill net neutrality; it also demolished the FCC's consumer protection authority.
The FCC is expected to re-open discussions on net neutrality. It's been a mess. The FCC claimed it had no jurisdiction over broadband to enforce neutrality, so separate states filled the gap with different approaches.
Leadership Changes: Two CMOs: Five9 hired Genefa Murphy, and RingCentral hired Jaya Kumar. RingCentral also announced a new CISO, Heather Hinton. Vonage announced Stephen Lasher as its new CFO.
Meetings and Messaging
Microsoft Teams 
- Improvements: The free version of Teams now has an agenda view. There's also a plugin for Google Workspace to use Teams meetings and new company-wide tasks lists. A few updates from December that Microsoft didn't post until after the December Insider Report: A visual End of Meeting Notification tells participants when there's only 5 minutes of a meeting left. The following languages are now supported for real-time translations: Japanese, Korean, French, French-Canadian, Spanish, Spanish-Mexican, Traditional Chinese, Swedish, Dutch, Italian, Hindi-Indian, Portuguese-Brazilian, and Russian.
- Dynamic View in Teams: Microsoft will release a new Dynamic View feature in Teams this March. It allows Teams users to share content side by side with participants. Currently in Teams, video feeds of other participants are tiny when people are screen sharing. This addresses a common frustration in Teams (and other video apps). Simply stated, users want more control over what they see. The update will also more clearly highlight who is speaking or has their hand raised. Dynamic View was previewed last July. 
- I Approve This Message: Users can now create, manage, and share approval workflows with Approvals in Microsoft Teams. Approvals in Teams is built on top of Power Platform and features a design studio, workflow steps, and conditions. It works with 350 connectors including ServiceNow. Approvals are a powerful, general-purpose workflow capability. Slack has similar functionality through its Workflow Builder, but it's more of a toolset than an application. Cisco demonstrated similar functionality on Spark in 2018. 
- Teams Strays from Stream: Teams recordings are automatically stored and streamed from Stream, a Microsoft streaming service. Microsoft will transition storage to OneDrive for Business and SharePoint. It makes sense to me. I store and stream on G Drive, and they say OneDrive is comparable. Microsoft says the change offers simplified settings for permissions. However, there is no way to restrict content to streaming only; that is, users with access can also download recordings. Also, government cloud accounts will lose transcription. Microsoft intends to deprecate Stream. 
- Dell Displays Teams: Dell announced three new video conferencing-focused monitors with a dedicated Microsoft Teams button. The Teams-certified monitors, available in 24", 27", and 34", feature a Teams button that provides users a single-touch join Teams meeting feature. Dell is the first to have a Teams button on a display. The built-in button seems fairly trivial as a feature that no doubt involved extensive testing and fees, and the new SKUs will require separate manufacturing and distribution. In other words, the Dell monitors without a Teams button should be cheaper and work about the same. The monitors are expected to be available in February.
Workplace Upgrades: Workplace by Facebook is a large startup buried within a behemoth. It's a startup that leverages many proven features of its parent. This month it introduced two new proven features: a new multi-host option for the platform's live broadcast feature and an improved safety check feature. The multi-host option comes from Facebook Live and is used for large audience broadcasts with multiple presenters (i.e., a panel format). A new Safety Center admin panel builds on the existing Safety Check function to allow companies to communicate with employees during a safety incident and track key metrics.
The safety check feature is nice, and it's a big gap in enterprise communications solutions. We don't seem to have a shortage of disasters in this world: riots, fires, earthquakes, hurricanes, tornadoes, and many more. Facebook enables this feature in disaster-stricken areas, but inclusion/expansion as an enterprise feature makes a lot of sense. Remember, many firstline employees don't have enterprise extensions, voicemail, or email accounts.  
Logitech Raises the Bar: Logitech (finally) introduced new meeting room appliances called the Rally Bar (mid-sized) and Rally Bar Mini (small room). Appliances are built-for-purpose video room system solutions. Neat and Poly both introduced appliances at Zoomtopia 2019. Like those, Logi's are complete systems (AV, compute, and controller) running a native video app on an Android-derived OS. Also announced was the Logitech RoomMate which is just the Android-based computer intended for larger rooms and to be paired with Logitech's Rally AV peripherals. The new solutions already have announced support from Microsoft Teams, Zoom, GoTo, Pexip, and RingCentral. 
Yes, Pexip — it enters the meeting room for the first time. Notably missing is Google Meet, which remains the only major video conferencing provider that refuses to support Android-based rooms (Meet's rooms run ChromeOS). What I want to know is if Cisco will embrace Poly or Logi appliances. I can see the logic on both sides. I suspect Cisco will . . . in about a year as a migration strategy. 
Room systems are expanding outside the room — to room panels which are the small displays outside the meeting room primarily for displaying scheduling information. It should be an exciting new battlefront as enterprises expand shared spaces post-pandemic. See upcoming TalkingPointz Research Note on Panels. 
Webex: Cisco had a quiet month in terms of announcements, but has released a big chunk of the updates promised at the WebexOne conference last month. Here's a few: gesture recognition now supported in the Webex App, an improved (more flexible) break-out session feature, expansion of calling features (prem, cloud, hybrid), integrated Webex Experience Management (IVR option for post-call surveys), expanded compliance and DLP tools, and Webex Hub management expanded across deployment models. The theme is a more intelligent and intuitive solution that spans across applications and deployment models. There's also a new multi content sharing capability that combines multiple content shares into a single stream. 
Meet Otter.AI: Otter.ai, via its Chrome extension, can now transcribe and provide closed captions for Google Meet calls. Meetings are transcribed in real-time and stored with other Otter transcripts such as those from Zoom calls. Otter has been mostly associated with Zoom, but as a standalone/independent provider it's free to transcribe other services too. This is an important point as the video space matures — that ecosystem partners can work across ecosystems. It's even more fascinating that Google Meet doesn't offer a native transcription capability. How is it possible that the AI powerhouse supports captioning (harder) and not transcription? 
MiTeam Meetings: MiTeam Meetings got two new features: meeting recording and the ability to undock a screen share. Recording is a gap correction, but undock is part of a larger industry trend that gives users increased control over the meeting experience. Remember when video innovation was about fidelity?
Vyopta Ramps: Vyopta released its Intelligent Monitoring Engine, part of its Collaboration Performance Management (CPM) suite. It can be useful to proactively identify degraded experiences, isolate root causes affecting calls and meetings, determine if home network or equipment are culprits, and more. Vyopta also announced its CPM suite achieved "In Process" FedRAMP status. Thus, now, federal agencies can also optimize their video and voice environments.
WebRTC Not Just a DeFacto Standard: The World Wide Web Consortium (W3C) and the Internet Engineering Task Force (IETF) announced that WebRTC is now an official standard. It's a groundbreaking, yet anticlimactic achievement. The journey to a standard took about 10 years. That's about five years longer than most expected, especially since Google provided the core technology and resolved many of the licensing disputes. 
The suite of voice and video technologies known as WebRTC enables royalty-free real-time technologies, including browser-based clients and improved interoperability. Components of WebRTC are heavily used across the industry, so its standard achievement is not particularly disruptive. The most popular video solutions are still proprietary and app-based, but they often utilize WebRTC components. The W3C WebRTC Working Group has started work on WebRTC Next Version Use Cases to map out WebRTC's future, including E2EE, ML, and IoT use cases. 
Telegram Imports: Telegram introduced the ability to import chat history from other apps. This includes the ability to export a conversation and all of its chat history from WhatsApp, Line, or KakaoTalk over to Telegram. Other announced enhancements include the ability to delete groups, secret chats, and call history for all parties at once. It's sometimes helpful to look at the consumer sector to see what's next in enterprise. Portability is very limited among enterprise messaging apps. 
See the Chime: The Amazon Chime SDK for mobile now offers support for screen sharing. The Amazon Chime SDK lets developers add real-time audio, video, and screen share capabilities to their web or mobile applications. Chime is a decent conferencing application, but its future really seems to be more platform. Though Chime is positioning around video-enabling non-video apps, Mitel used it as the engine of its meetings app. 
Engagement
AWS CCI: Like me, Amazon saved the best stuff for 2021. AWS re:Invent, which started last year (no wonder they call it re:Invent), continued this month. Among the news was an expansion of AWS Contact Center Intelligence (CCI). Details include an expansion of global reach, languages, applications, and partners. Regarding languages, transcription of live calls is now available for German, Italian, Japanese, Korean, and Portuguese languages. 
Amazon's new CX engagement partners include 8x8, Avaya, Genesys, Salesforce, and Talkdesk. Vonage is listed as a technology partner. For example, Talkdesk added AWS CCI alongside its Talkdesk IQ services. The supplementary service allows Talkdesk Agent Assist and Talkdesk Speech Analytics to leverage Amazon Transcribe to expand the number of languages and accents supported. 
We all get the platform play, but it's harder to accomplish when, at least some, consider Amazon a CCaaS provider. Conversely, Google has not launched a CCaaS offer, and Google CCAI has been widely embraced by CCI and CCaaS providers. Note that some of Amazon's CCI partners are also partners for Google CCAI. For those running private cloud solutions, the end customer may have a preference based on where their data resides. CCaaS providers embracing both solutions have flexibility to determine the best tool for a given situation. 
Amazon Connect Search: Amazon Connect has launched a new version of Contact search. You can now use an enhanced UI to search with eight-week timeframes, use more filters, and select multiple values such as Agent name and Queue name. 
Avaya Dialogflow: Avaya expanded its partnership with Google CCAI and announced new conversational AI capabilities for its Avaya OneCloud CCaaS and CPaaS portfolios. The Avaya AI Virtual Agent Enhanced offers a more human-like experience intended to improve customer experience.
Calabrio and Twilio Collaborate on Flex: The Calabrio One WEM suite is now integrated with Twilio Flex. Twilio Flex customers can use this integration to expedite the deployment of analytics, QM, and WFM capabilities in their Flex contact center. The solutions provide administrators tools for forecasting and call monitoring, as well as actionable analytics to drive informed decisions. Twilio also added Colabrio to its Flex Boost program that offers incentives related to contact centers impacted by and responding to COVID-19. 
UJET: The CCaaS provider added another notch to its integration belt with Oracle Cloud CX Service and availability of the platform on Oracle Cloud Marketplace. The integration allows businesses to unify CCaaS and CRM data and provides embedded in-app and mobile support. The company expects that the integration should enable customers to reduce handle and post-call times and eliminate redundant storage of data. UJET is a member of the Oracle Partner Network.
Also, UJET has its first WFO partnership with Observe.AI. The partnership enables AI to drive operational efficiencies and end-to-end quality assurance and coaching. Observe.AI provides intelligence and automation that analyzes 100% of voice interactions. 
CCaaS: The Cure for the Common Pandemic: Beyond disruption and deaths, the pandemic has also created a few interesting business opportunities. 2020 was largely about the WFH (and agent-at-home) transition, plus the CPaaS angle regarding contact tracing and delivery services. 2021 will be about vaccinations. We are about to see unprecedented demand for education, coordination, and scheduling communications. Last month I featured a few new contact center solutions optimized for the vaccine rollout. 
This month Talkdesk announced packages for Vaccine Administration as well as PPP Loan Distribution. Both provide a free trial period and automated self service. The rapid-deployment programs address real needs and demonstrate benefits of CCaaS such as rapid deployment and scalability. These programs should be effective at seeding premises-based customer migrations. 
More Teams Integrations
- Nice Team You Got There: NICE announced new integrated capabilities between NICE inContact CXone and NICE Engage with Microsoft Teams. CXone Agent is now embedded in Teams, and CXone agents can now see the presence of Teams users. Contact Centers and back offices using NICE Engage recording can record all their Teams-based communications. 
- Tryvium and Teams: Sensiple announced it integrated its Tryvium Desk platform with Teams. Tryvium leverages AI, automation, and NLP technologies to extend the capabilities of Microsoft Teams. It is primarily optimized for IT service management and HR functions. Tryvium Desk for Teams is available in the Microsoft Azure Marketplace and AppSource.
It seems increasingly inevitable that Microsoft will expand into the CCaaS space, probably via acquisition. 
Intrado announced the launch of the Mosaic self service virtual agent platform. Mosaic is sold as a platform-as-a-service and as a managed service. 
Unified Communications
Zoom 1M: Zoom announced it reached the 1M subscriber milestone for Zoom Phone. That's an impressive achievement as Zoom Phone was launched in January 2019. Zoom operates on a different time scale. It's like Wrath of Khan when hours could seem like days. Note that Zoom's achievement is measured in paying seats. It is not measured in usage (hours or minutes) or revenue. 
Ray Baum's Act arrived this month. This is the new rule that says 911 calls (from new or modified comms systems) are to include detailed dispatchable location information such as room number, floor number, or video meeting room name. Officially, the Act's name is an acronym: Repack Airwaves Yielding Better Access for Users of Modern Services. Unofficially, the Act was named after an Oregon PUC commissioner that passed away recently. Never allow acronyms when playing Scrabble with legislators. 
ALE Adapted: Alcatel-Lucent Enterprise (ALE) and EPOS announced new certifications for the 360, 460, 560, and 660 models in EPOS' Adapt headset range, as well as the Expand 80 speakerphone.
Unify Office by RingCentral is now available in the US. Atos also made an offer to acquire DXC which if successful will more than double the GSI and triple its NA business. See more in this NoJitter post. 
Telestax and NEC: Telestax CPaaS announced a strategic agreement with NEC Corporation of America. NEC has incorporated the Telestax programmable SMS functionality into its UC suite to enable new digital channels and applications such as 2FA and number masking. A new app is the NEC Front Desk Assistant which provides contactless check-ins. It puts an interesting cloud twist on premises-based UC. MZA recognized NEC as the leader in call control products to SMBs. The Telestax partnership launched in NA with expansion planned for Europe and Japan. 
The agreement does not, at least for now, extend to the Univerge Blue UCaaS solution. Speaking of which, the UCaaS service via partnership with Intermedia was expected to expand to Europe in 2020. I inquired with Intermedia last month, but haven't heard back yet. NEC sources expect Univerge Blue will be GA in many European markets in Q1 starting with the UK. 
8x8 Winter Release: 8x8 announced a broad set of features. There's no standout feature per se, but the release highlights diverse features, partnerships (Verint), and integrations (Teams) that emphasize its single-provider value proposition for enterprise communications. 
Microsoft Teams Improvements: A few updates from December that Microsoft didn't post until after the December Insider Report: Chat to call feature now offers multiple numbers for a contact and live captions on calls. Teams phones now support a new video layout including 3x3 gallery view, large gallery view for more participants, and Together mode. Teams conference phones now support proximity join (note this is bluetooth low energy beacons vs. the ultrasonic pairing used by Cisco). 
Financial News
Zoom Shares: Zoom raised $2B in a stock offering (at $340/share). It slightly increased its fundraising plan just prior to the offering — probably because it could. The funds will be used to build data centers, expand R&D, and possibly for M&A. More details are expected in March. 
Chronosphere announced a $43.4M Series B and that its service is now GA. It offers a scalable cloud native monitoring tool. It has 50 employees, up from 13 at its 2019 A round. 
Glia: Customer service startup Glia today announced it raised $78M. Glia provides a customer service platform that supports text, phone calls, and video chat and matches customers with support staff by pairing video with messaging and voice. It offers chatbots powered by IBM Watson, Amazon Lex, Google Dialogflow, and other natural dialogue backends.
Playvox: Playvox, a contact center WEM provider, announced a $25M funding round from Five Elms Capital.
Calendly: Calendly closed an investment of $350M from OpenView Venture Partners and Iconiq that values the calendaring startup at over $3B. Calendly is a freemium service that fixes a ridiculous self-service booking gap that Microsoft and Google have left open. Online calendars became popular in the late 90s and haven't evolved much since. Calendaring is remarkably primitive and ripe for a digital disruption. Today's online calendars are essentially digital versions of their paper predecessors. They are especially limited when external users are involved. 
Ringover: Ringover raised €10 million in a Series A round of funding, the first outside funding in its 16-year history. The funds will help it "power the future of enterprise communication." Ringover aims to replace legacy contact center and its SaaS offer that includes voice, video, messaging, and SMS communications for teams, as well as tools for managing inbound and outbound customer communications.
Ringover offers a range of integrations with other cloud-based enterprise tools, including Salesforce, Zendesk, Pipedrive, Freshdesk, HubSpot, and Microsoft Dynamics. Additionally, Ringover offers data and analytics that show stats such as average call duration, queue time, and percentage of calls that were answered (or not), which can help managers figure out how well individuals or teams are performing and track KPIs. Ringover also offers an API so businesses can ingest all this data into other internal tools.
Yac: A startup that digitizes voice messages (and screen shares) for team collaboration raised $7.5M. The Slack Fund was a repeat investor. The company uses async communications, promises to eliminate meetings, and claims more than 1500 teams are using it. Yac works alongside other/existing enterprise messaging and meeting tools. Long live voicemail.
Qualtrics: Shares of Qualtrics International Inc., a spinoff from SAP, rose roughly 38% in its public-markets debut this month. Qualtrics makes software to track customer interactions, brands, and employees. It's the same old story, Enterprise Connect Keynoter to CEO of a $24.5B company. Prior to Qualtrics, Zig Serafin was leading the SfB team at Microsoft. He and Gurdeep left just before Teams. 
Desperately Seeking an Android Smartphone: LG impressed many of us with its CES tease of a rollable smartphone display, but the stunt may have really been designed to find a buyer of its phone division. LG appears to be next to head for the smartphone smartdoor. Google's strategy to take on Apple involved a vibrant and innovative section of hardware, but the split revenue model doesn't seem lucrative enough. Samsung is winning but compromises its hardware with bloatware and spyware. Google has made a few great phones, but its challenges with commitment and attention span limit its impact. LG, Sony, Huawei, Nokia, Oppo, HTC, Lenovo, Asus, and Razer are all also-rans. 
I just bought my first iPad in part because I'm unimpressed with the Android tablets (and in part because I wanted to try Clubhouse). 
Acquisitions
Sangoma and Starblue: Sangoma acquired StarBlue, better known as Star2Star, for approximately $437M. StarBlue was established in January 2018 as a result of the merger between Blueface and Star2Star. However, Blueface was subsequently acquired in 2020 by Comcast (and never heard from again). 
It's an interesting move. As a few giant UCaaS providers gobble up market share, it has become tougher for the smaller boutique brands. Star2Star is added to Sangoma's list of interesting acquisitions, and it now heads into 2021 as a profitable company approaching $250M CAD in revenue. Sangoma has a broad suite of cloud communications technologies (UCaaS/CPaaS/CCaaS/iPaaS with a proprietary cloud-native stack) that serve SMB-enterprise accounts with a strong channel partner portal and channel enablement tools. Sangoma also crosses retail, white-label, and wholesale models and partners with both distributors and strategic partners. Star2Star got a good price at 5.4x revenue. That's above Jive (4.5), NewVoiceMedia (5), BroadSoft (5.2), Interactive (3.4), LogMeIn (3.7), and IMImobile (3.3). The transaction is scheduled to close by March 31, 2021. 
Hopin and StreamYard: Hopin, a virtual events company, announced it acquired StreamYard for $250M in a mix of cash and stock. Hopin intends to better integrate StreamYard's streaming technology into its event services, but also retain the brand as a standalone service. Digital/virtual events have blossomed during the pandemic, and Hopin has been hoppin'. It did a Series A, Series B, and an acquisition in the past six months. 
Hootsuite and Sparkcentral: Hootsuite, an independent social media management service, acquired Sparkcentral, a customer engagement platform for self service and automation. Terms were not disclosed. The deal gives Hootsuite a range of messaging channels, including WhatsApp, WeChat, Google Business Messages, Apple Business Chat, Telegram, and SMS. Sparkcentral's automation includes tools that collect conversations across channels and upload them to the CRM. Hootsuite said this deal will help it "unify social marketing, social listening, and social customer care" under one platform. There's a clear pattern emerging: digital customer service rocks! Digital channels are increasingly critical to customer service (and inbound calls are increasingly viewed as legacy). 
BCM One and SkySwitch and LincLogix: BCM One, a managed solutions provider, acquired SkySwitch, a white-label UCaaS provider. The acquisition allows BCM One to expand its UCaaS offerings and grow its channel reach. Prior acquisitions include nexVortex, SIP.US, SIPTrunk, and Arena One. Separately, BCM One also announced the acquisition of LincLogix, an Indianapolis data and voice solutions provider.
Neat Turtles: Gaming headset maker Turtle Beach acquired Neat Microphones, a manufacturer of whimsical desktop USB microphones. The company's founders previously started Blue Microphones which was acquired by Logitech in 2018. This is another example of how gaming is moving toward distributed enterprise communications. Both sectors rely on displays, cameras, audio equipment, and increasingly streaming technologies. Have you considered Twitch as a platform for your next virtual event? 
American Towers: American Tower Corporation announced a definitive agreement with Telefónica, S.A. to acquire Telxius Towers. The deal brings about 31K sites in Germany, Spain, Brazil, Chile, Peru, and Argentina to American Towers (that's an unfortunate name). The total consideration for the transaction is approximately €7.7 billion. It is odd to me that cell companies don't own their towers anymore. 
Citrix and Wrike: Citrix announced that it has entered into a definitive agreement to acquire Wrike, a provider of collaborative work management, for $2.25B in cash. The combination is intended to complement Citrix's digital work platform. Wrike's cloud-delivered capabilities will accelerate Citrix's transition to a SaaS-based platform. Headquartered in San Jose, California, and employing more than 1,000 employees, Wrike, a Vista Equity Partners portfolio company, provides approximately 18,000 customers globally with solutions that empower teams and distributed workers to plan, manage, and efficiently complete work at scale. Wrike was featured in the Innovation Showcase at Enterprise Connect 2012. 
Playvox and Agyle: CCaaS provider Playvox schedules a WEM expansion with the acquisition of Agyle Time. Playvox currently serves over 200 customers in 34 countries. Both providers saw significant growth in 2020. The acquisition was implemented in conjunction with the fund raising covered above. 
Workday and Peakon: Workday is acquiring employee feedback platform Peakon for $700M in cash. This is kind of a parallel universe thing. Employee feedback became more important during the pandemic, and distributed teams makes employee feedback more similar to customer feedback or voice of the customer. Many CCaaS companies are expanding into tools for both customer feedback and employee engagement. Peakon was founded in Copenhagen in 2014 and has raised $68M.
Uniphore and ERL: Conversational intelligence vendor Uniphore announced the acquisition of Spanish video and emotion AI startup Emotion Research Lab. "The origin of the name Uniphore is rooted in the fact that speech and the human voice sets us apart from other species." It's a nice pitch, but misses video or vision — not anymore. ERL identifies emotion and engagement levels in live video interactions through facial recognition and eye tracking technologies. It also measures attention span, engagement, and other interest indicators. New AI and ML products that combine voice and video intelligence are expected in 2Q21 to address opportunities in customer experience, sales, HR, and marketing. 
This Month's Goodreads 
Voicemail in the news.

Giuliani accidentally left a rambling voicemail on the wrong phone

 

On the threat of disinformation:

Interview with X-CISA Head Chris Krebs

Hardware is not simple!

Hardware is Hard
Listen to the two TalkingHeadz Podcast interviews of January: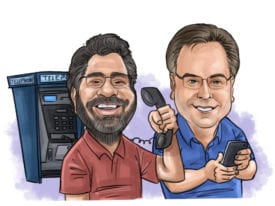 Next month's guests include Tom Puorro of Poly and Chris MacFarland of Masergy. 
Real-Time, Recorded is a new weekly short video about industry news. Sometimes news can't wait for the newsletter. Dave Michels and Zeus Kerravala provide what you need to know in a weekly short video discussion.
TalkingPointz Insider Reports are available through a subscription service at TalkingPointz.com.
Personal subscriptions are available to view on TalkingPointz.com. Enterprise subscriptions are multi-user and include a downloadable version of this and other reports.