Welcome to TalkingPointz
TalkingPointz provides coverage, insights, and analysis of enterprise communications including UC/UCaaS, team messaging, meetings, customer engagement, CPaaS, and hardware.
Industry executives, investors and insiders seek Dave Michels' insights, opinions and advice to make timely and critical business decisions. TalkingPointz customers engage in three ways:
FREE content and analyses – we email it to you (or visit often).
PURCHASE premium content to make timely decisions.
INQUIRE about custom advisory services.
About Dave


The Most Important Enterprise Communications News from October 2022 The Most Important Enterprise Communications News from October 2022 October is always a big month for events. It's the perfect month for events other than the fact that there's so much…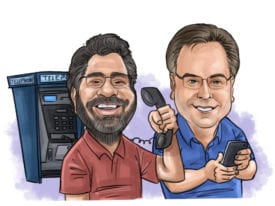 Amazon Chime continues to evolve. What started as a meetings app transitioned into an SDK and now delivers advanced embeddable comms services that can be used in standalone ways, as a means of leveraging other AWS services (such as Lex),…
The Artemis space mission isn't just one small step for man; it's one giant leap for communications technology.
The new offering from NEC offers channel partners the favorable economics of selling hardware while providing customers the benefits of UCaaS and CCaaS.
Read More