Welcome to TalkingPointz
TalkingPointz provides coverage, insights, and analysis of enterprise communications including UC/UCaaS, team messaging, meetings, customer engagement, CPaaS, and hardware.
Industry executives, investors and insiders seek Dave Michels' insights, opinions and advice to make timely and critical business decisions. TalkingPointz customers engage in three ways:
FREE content and analyses – we email it to you (or visit often).
PURCHASE premium content to make timely decisions.
INQUIRE about custom advisory services.
About Dave
Last March, At Enterprise Connect, three (3) vendors included smartphone mobility demos in their keynotes. That's three major providers: Cisco Webex, Microsoft Teams, and RingCentral demonstrating AT&T [email protected] by RingCentral. [This research note is 8 pages and is written in…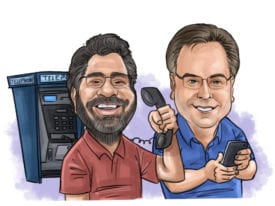 Talkingheadz is an interview format podcast with the movers and shakers of enterprise communications, and we have good guests too.  It's not co-hosting the most influential podcast in the industry. A quick peek behind the curtains you will see a…
A digital transformation initiative at TalkingPointz has created some surplus equipment. It's time to sell the world renown TalkingPointz Phone booth, complete with a rotary payphone. The phone booth has been utilized by the tele-rati. For sale: One original blue,…
Bandwidth and Alianza plan a "sell-with" go-to-market strategy, as the communications service provider market is seeing new growth with private-label solutions.
Read More