Welcome to TalkingPointz
TalkingPointz provides coverage, insights, and analysis of enterprise communications including UC/UCaaS, team messaging, meetings, customer engagement, CPaaS, and hardware.
Industry executives, investors and insiders seek Dave Michels' insights, opinions and advice to make timely and critical business decisions. TalkingPointz customers engage in three ways:
FREE content and analyses – we email it to you (or visit often).
PURCHASE premium content to make timely decisions.
INQUIRE about custom advisory services.
About Dave
This research note is 9 pages long and contains TalkingPointz organizations into 7 sections (General, Momentum, The RingCentral Portfolio, Customer Engagement, RingCentral GTM, Targeting Legacy, and 64 pointz under Dave's Thoughts). Available to Premium Subscribers. The report offers a snapshot…
During the Dolby Labs Q4 2020 Earnings Call, President and CEO Kevin Yeaman announced that Dolby is exiting conference hardware: "Going forward into Q1, we're winding down and exiting conferencing hardware sales, as we will now be fully focused on…
Automated testing is a critical step toward rapid innovation.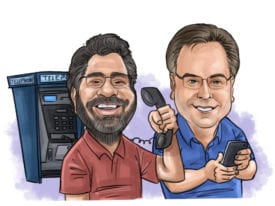 This was a big deal for Dave – I'm a major fan of Mr. Doctorow. I really appreciate how he makes complex topics so accessible. I thoroughly enjoyed the first two Little Brother books (just started the third), and have…
Read More