Welcome to TalkingPointz
TalkingPointz provides coverage, insights, and analysis of enterprise communications including UC/UCaaS, team messaging, meetings, customer engagement, CPaaS, and hardware.
Industry executives, investors and insiders seek Dave Michels' insights, opinions and advice to make timely and critical business decisions. TalkingPointz customers engage in three ways:
FREE content and analyses – we email it to you (or visit often).
PURCHASE premium content to make timely decisions.
INQUIRE about custom advisory services.
About Dave


The Most Important Enterprise Communications News from July 2021 July was a relatively quiet month. Other than the fact that the planet is on fire and a predictable variant of a virus poses an existential threat to humankind or at…
For years I have been frustrated by my inability to watch YouTube videos on my Verizon phone. When I do a SpeedTest there is more than enough speed to watch videos. My data plan has more than enough high speed…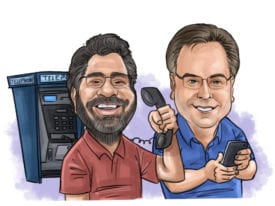 It was independent service providers that largely created the hosted voice and UCaaS sector. Go back to the early Magic Quadrants and the reports were dominated by the independent providers that used products like KAZOO, BroadWorks, MetaSwitch, and Genband to…
Modularization of UCaaS services is emerging as the new best-of-breed opportunity, as evidenced in this latest example of the decoupling of carrier services from UC.
Read More