Welcome to TalkingPointz
TalkingPointz provides coverage, insights, and analysis of enterprise communications including UC/UCaaS, team messaging, meetings, customer engagement, CPaaS, and hardware.
Industry executives, investors and insiders seek Dave Michels' insights, opinions and advice to make timely and critical business decisions. TalkingPointz customers engage in three ways:
FREE content and analyses – we email it to you (or visit often).
PURCHASE premium content to make timely decisions.
INQUIRE about custom advisory services.
About Dave
The Most Important Enterprise Communications News The Most Important Enterprise Communications News Welcome to the new format for the TalkingPointz Insider Report. Since their origin seven years ago, the TalkingPointz Insider Reports have been published monthly. The monthly format offered…
Blaming meetings for impeding productivity is like blaming a hammer for shoddy construction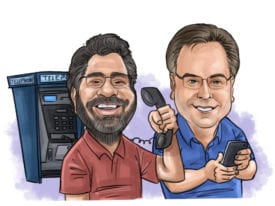 Appian is a low-code software development platform that allows users to create business applications quickly and easily. The platform uses a visual drag-and-drop interface, making it accessible to users with little to no coding experience. Appian also includes features such…
The Innovation Showcase provides a glimpse of tomorrow's technologies. Enterprise Connect exhibition newcomers are encouraged to apply.
Read More