Welcome to TalkingPointz
TalkingPointz provides coverage, insights, and analysis of enterprise communications including UC/UCaaS, team messaging, meetings, customer engagement, CPaaS, and hardware.
Industry executives, investors and insiders seek Dave Michels' insights, opinions and advice to make timely and critical business decisions. TalkingPointz customers engage in three ways:
FREE content and analyses – we email it to you (or visit often).
PURCHASE premium content to make timely decisions.
INQUIRE about custom advisory services.
About Dave


The Most Important Enterprise Communications News from October 2021 October is typically the busiest month of the year in terms of UCC events, and 2021 didn't disappoint. This month, I attended three in-person events. Coincidentally, that's the same number of…
Have you noticed that since Covid-19 the people at call centers are a LOT ruder? I'm not quite certain what happened, but the people in most of the call centers have become short-tempered, rude, and even aggressive. This is especially…
Ericsson joins the enterprise communications space and looks to tap Vonage's CPaaS to provide APIs to 5G providers.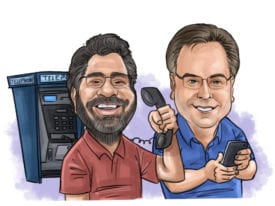 The UCC story at Verizon is pretty big and includes multiple options for UCaaS and CCaaS. Some of them even include 5G, and some of them even disguise the 5G as ordinary desktop phones. Some of them are Verizon branded…
Read More