Welcome to TalkingPointz
TalkingPointz provides coverage, insights, and analysis of enterprise communications including UC/UCaaS, team messaging, meetings, customer engagement, CPaaS, and hardware.
Industry executives, investors and insiders seek Dave Michels' insights, opinions and advice to make timely and critical business decisions. TalkingPointz customers engage in three ways:
FREE content and analyses – we email it to you (or visit often).
PURCHASE premium content to make timely decisions.
INQUIRE about custom advisory services.
About Dave


The Most Important Enterprise Communications News from January 2021 There is a lot of optimism about the new year — less pandemic, more travel, and an opportunity to create the new normal. There is indeed hope that we are past…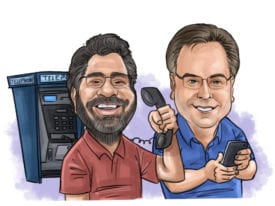 I believe Scott is the first guest to return to TalkingHeadz. Our first interview with Scott took place after Infocomm 2018. Once again, in this interview we were able to discuss with Scott recent product announcements from Logitech: The Rally…
I have participated in several Clubhouse sessions, and (with @EvanKirstel) hosted four. My current conclusion is: It's a brilliant, but dumb service. Let's start with why it's brilliant. Clubhouse filled a gaping void for connection. I agree with many others…
CCaaS evaluations are easier when you start with some philosophical boundaries.
Read More