Welcome to TalkingPointz
TalkingPointz provides coverage, insights, and analysis of enterprise communications including UC/UCaaS, team messaging, meetings, customer engagement, CPaaS, and hardware.
Industry executives, investors and insiders seek Dave Michels' insights, opinions and advice to make timely and critical business decisions. TalkingPointz customers engage in three ways:
FREE content and analyses – we email it to you (or visit often).
PURCHASE premium content to make timely decisions.
INQUIRE about custom advisory services.
About Dave
The Most Important Enterprise Communications News from August 2022 It's the Economy, Stupid Economists have it made. No one understands the economy, so they are never held accountable for wrong predictions. We know that comms stocks and forecasts are declining,…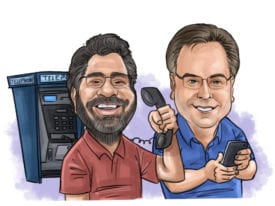 When Avaya exited bankruptcy (late 2017), I casually remarked to a friend that Avaya and Vonage should get together. In hindsight, it was a brilliant idea, but at time it was ludicrous. Avaya was free from Chapter 11, had restructured…
Slack takes on Microsoft Office with its recently revealed Canvas feature.
The hybrid office conversation needs to extend to resilient architecture. Zoom's first hybrid workload addresses this need.
Read More