Welcome to TalkingPointz
TalkingPointz provides coverage, insights, and analysis of enterprise communications including UC/UCaaS, team messaging, meetings, customer engagement, CPaaS, and hardware.
Industry executives, investors and insiders seek Dave Michels' insights, opinions and advice to make timely and critical business decisions. TalkingPointz customers engage in three ways:
FREE content and analyses – we email it to you (or visit often).
PURCHASE premium content to make timely decisions.
INQUIRE about custom advisory services.
About Dave
Overview Zoom and Five9 have enjoyed a partnership for several years. On July 18, 2021 the companies agreed to merge. Both BoDs approved the deal.  Zoom's vision is best-in-class video and customer engagement from a single provider.  Rowan Trollope, CEO…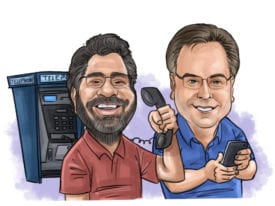 It was independent service providers that largely created the hosted voice and UCaaS sector. Go back to the early Magic Quadrants and the reports were dominated by the independent providers that used products like KAZOO, BroadWorks, MetaSwitch, and Genband to…
Modularization of UCaaS services is emerging as the new best-of-breed opportunity, as evidenced in this latest example of the decoupling of carrier services from UC.
Alternative title: Why you can't actually use your cell phone's data plan. There's one great misunderstanding that most people have about speedtest: that your download speed isn't controlled by your upload speed. Consider the speedtest shown in the photo. Looks…
Read More