Welcome to TalkingPointz
TalkingPointz provides coverage, insights, and analysis of enterprise communications including UC/UCaaS, team messaging, meetings, customer engagement, CPaaS, and hardware.
Industry executives, investors and insiders seek Dave Michels' insights, opinions and advice to make timely and critical business decisions. TalkingPointz customers engage in three ways:
FREE content and analyses – we email it to you (or visit often).
PURCHASE premium content to make timely decisions.
INQUIRE about custom advisory services.
About Dave


October sucked just like most of the other months this year. The themes of fires, hurricanes, election, and pandemic continued. The pandemic is in its second or third wave depending on how you count them. October ended with a US…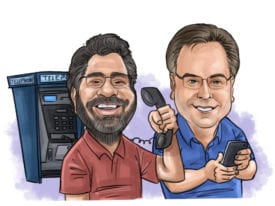 This was a big deal for Dave – I'm a major fan of Mr. Doctorow. I really appreciate how he makes complex topics so accessible. I thoroughly enjoyed the first two Little Brother books (just started the third), and have…
Zoom joins the Leader Quadrant, alongside 8×8, Cisco, Microsoft, and RingCentral.
I am pretty stunned by Apple's M1 "Apple Silicon" processor announcement. In a surprisingly good way. I'll start with the conclusion: Apple seems to have developed a superb, outstanding, brilliant, design. This could be a genuine game changer for Apple…
Read More