Welcome to TalkingPointz
TalkingPointz provides coverage, insights, and analysis of enterprise communications including UC/UCaaS, team messaging, meetings, customer engagement, CPaaS, and hardware.
Industry executives, investors and insiders seek Dave Michels' insights, opinions and advice to make timely and critical business decisions. TalkingPointz customers engage in three ways:
FREE content and analyses – we email it to you (or visit often).
PURCHASE premium content to make timely decisions.
INQUIRE about custom advisory services.
About Dave


The Most Important Enterprise Communications News from April 2022 This may be be the shortest Insider yet (6 pages). It seems the news pipe was drained last month at Enterprise Connect. Funny what happens after an annual event takes place…
The CCaaS provider's upcoming conference will set the priorities for a lot of organizations — and competitors.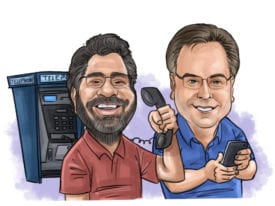 Direct Routing and Operator Connect for Microsoft Teams allowed providers to benefit from the explosive growth of Teams. However, coming up with a differentiated offer isn't easy. That's one of the topics we cover with Dawn-Marie Elder, COO of SIPPIO….
Here are 13 pages on Enterprise Connect 2022. I like to take a deep dive on what occurred at EC every year. Enterprise Connect provides an annual snapshot, and a deep look reveals some interesting industry changes and trends. This…
Read More